Sounds of Spring
MYP Students record their first digital album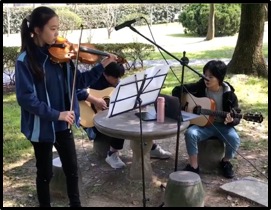 Year 9 students are putting the finishing touches on their first class recording as part of their MYP music class this semester.   Students have shown determination and dedication to complete this task in a short amount of time.  They have collaborated to adapt their favourite music to arrive at their own custom-made sound.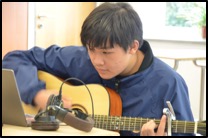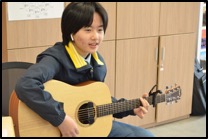 Violinist Lyla, and guitarists Michael and Lily are very excited to see the fruits of their labour. They have produced a cover version of Symphonyby Clean Bandit. 
'Music helps you express your feelings', says Lyla.  Lily has discovered that working in a group can help boost your creativity.  Michael enjoys the feeling of working together to create a special sound. 
Lyla, Michael and Lily, along with their Year 9 classmates will donate the proceeds of their CD sales to charity.
Music teacher Ben Turner is proud of his students and their endeavours; he feels that they have worked hard and deserve this success.   'Our music programme at NBHIS is growing thanks to projects like this.'
A digital album will be available in June following the contributions from the remaining students.